​Gyotaku is an ancient artistic method that uses real fish or other sea creatures to create an impression on paper. The traditional Japanese technique uses Sumi ink, but modern techniques allow many mediums. I practice the Direct Method by painting directly on the fish using acrylic paint, and gently pressing handmade paper over them. When the paper is lifted, the impression of the creature on the paper. At this point, the final touches are added such as the eye and traditional signature. (Traditional Gyotaku does not paint the eye to make the original impression.) My traditional signature is my name in Japanese.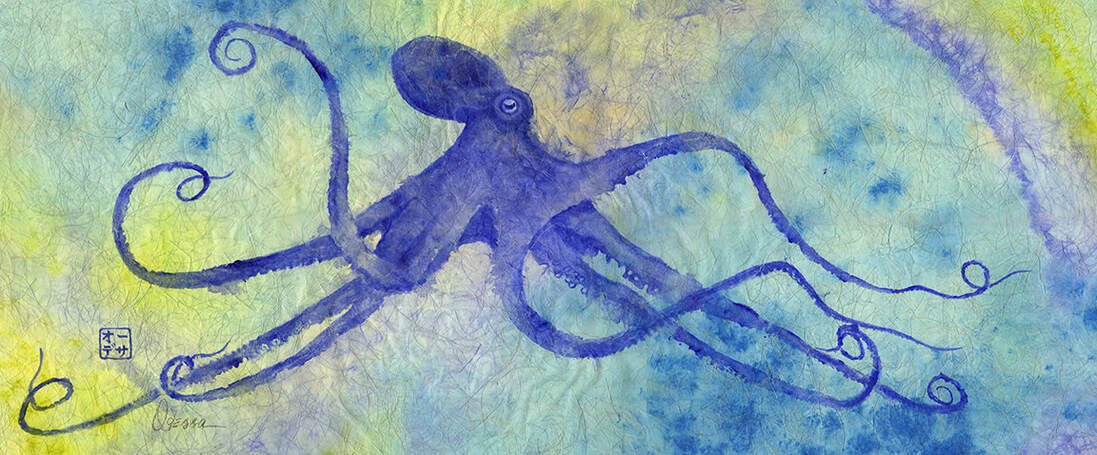 ---
Gyotaku (sort of) – Foodie Series
Today, Gyotaku is not limited to fish and Sumi inks. Artists are branching out and experimenting with subject, paper and color. That's exactly what Odessa has done. Her Foodie series uses real vegetables, plants, fruits and even steak.
---
A note from Odessa...
Here's a short video I made of one of my first octopus Gyotaku.
​I also have a 5 part "how to" video series available if you'd like to learn more.
You can find the How to Make a Gyotaku videos on
YouTube
and
Vimeo
.